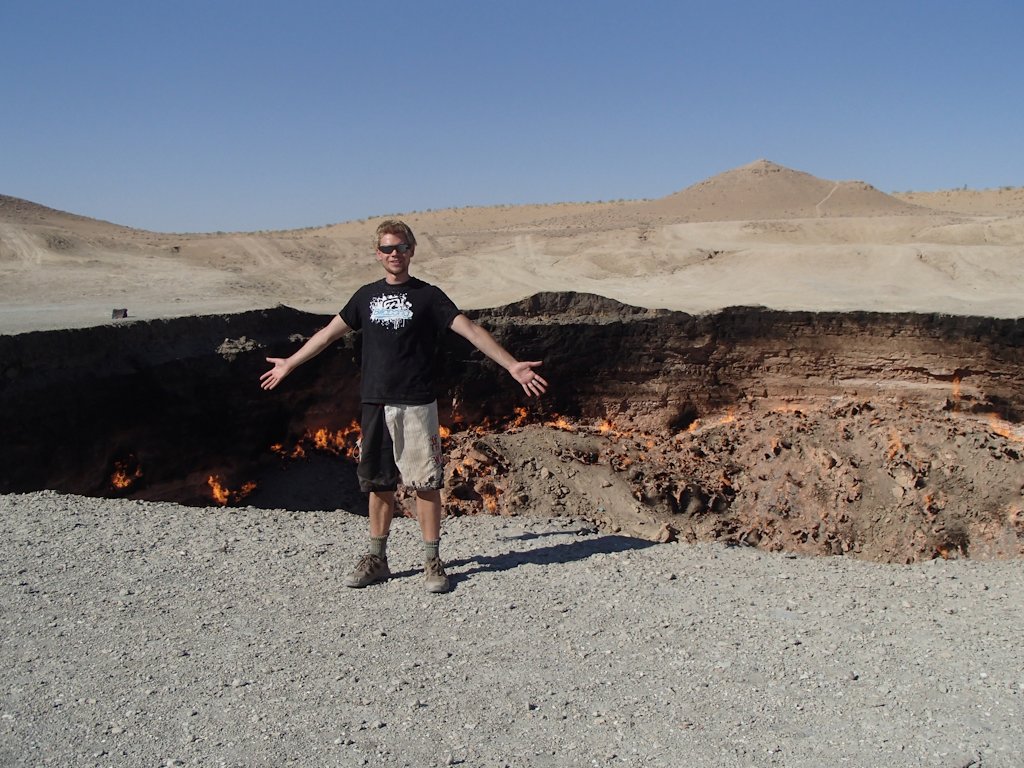 After an incredible night spent camping next to the gas craters, we awoke at eight o'clock in the morning to already blazing heat and suddenly realised that we were in the middle of a desert! The mercury was rising rapidly and the sun shone strong, we all began to feel the heat very quickly. With only the 4×4 vehicle of Warren Point, we had to take the 7km trip back to where the ambulances were parked in three trips. This time it was much more fun going across the sand dunes and some even saw some massive lizards en-route.
Once we regrouped back at the ambulances, we repacked, sorted out the water and stale bread and began our trip to the Uzbekistan border. As we set off from the lay-by we'd parked in we had fun bump-starting Endeavour on a sand dune with only a foot of space.
We split with the other teams, intending to set a faster pace through to the border although faster turned out to be relative, with the road quality varying constantly along the 300km journey. Some regions we managed to get up to 50mph, but we averaged around 20-30mph on the poor condition roads. The view in the desert was of a barren sandy landscape, with no visible human presence, with the exception of the 'road'.
We arrived at the Uzbek border crossing shortly before it closed for the evening and instantly made friends with the military guards on the Turkmenistan side. After a few forms and some conversations about the Olympics, football and Neil's dreadlocks (a recurring theme it seems), we got through to no-mans land. The Uzbekistan border was even quicker, with the guards rushing us through our forms as they hurried to go home, a quick glance into the ambulances and we were told it was all good. THe guards didn't understand road tax or insurance, we we went on our way without spending any extra dollar, a pretty big win for the unexpected $400 at the Turkmen entry border.
With light fading fast, we found a nice spot next to the main road, which by British standards is an empty country lane, cooked our usual and delicious pasta, sauce and tuna meal and got to bed nice and early.