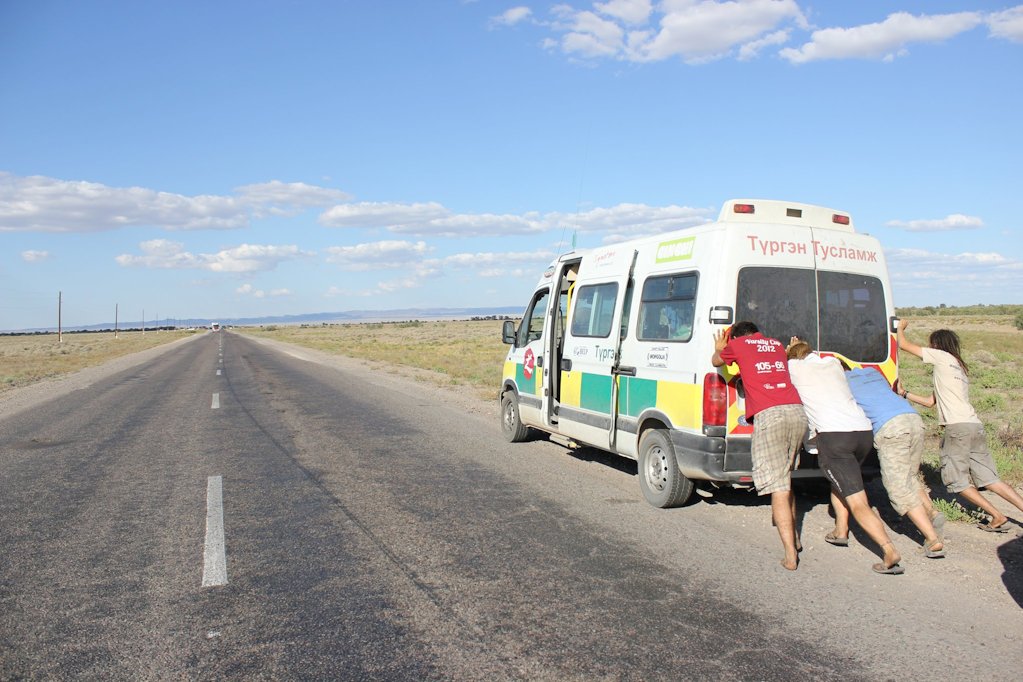 We woke up to find the mosquito swarm had planned to ambush us on leaving the tents and we were promptly surrounded. We decided to make a quick escape and left without washing up or eating breakfast with the intention of getting as close to Astana as possible.
The first task of the day was to fill up the vehicles wit diesel, a challenge complicated by our lack of local currency. We visited five petrol stations, waving US dollars at the attendants before we got the thumbs up to fill Adventure and Endevour. Our attendants filling the vehicles were good fun and displayed their expert command of English by telling us all the swear-words they knew. They were also happy to dance along to Katy Perry with us, as it took 20 minutes to fill the vehicles due to the rubbish pumps!
It turns out that in Kazahkstan that it is illegal to drive without your lights on, even during the midday sun. Thirty seconds after leaving the petrol station, we were flagged down by a Kazakh cop with a massive hat who pointed at our lights and demonstrated that they were off. We pretty quickly gathered that they were after a bribe. Using all of our anti-bribery techniques including talking English very quickly, giving them all of the wrong documents, and being reeeeally friendly, we managed to knock down their first request of $50 (incidentally, the only English they seemed to know) to a grand total of $2. Although it was our first cash bribe of the trip, paying $2 didn't seem like too big a loss.
The rest of the days driving turned out fairly uneventful; with smooth road, a huge 25,991 kazahk tenge shop (thats 120 of your finest british pounds) and the only potential interesting event was Endevour narrowly missing an eagle that chose to cross the road without looking both ways.
We settled down 80km from Astana to camp in the endless Kazahk grasslands to have a well earned beer and some dinner.