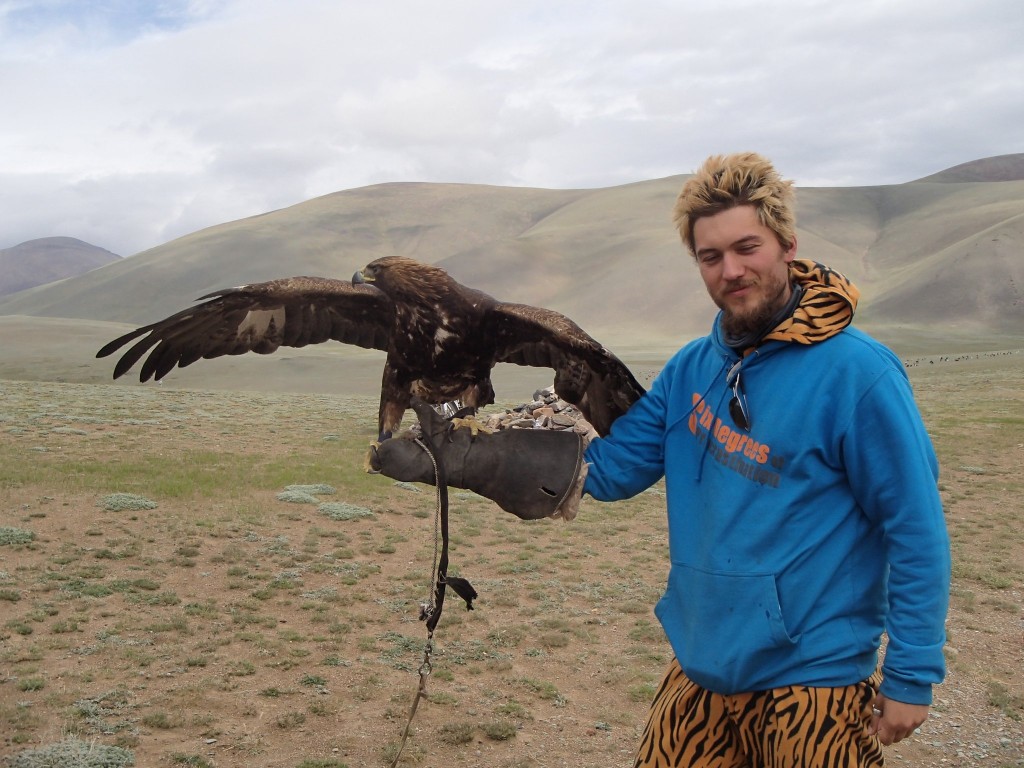 We woke up outside Olgii and all plowed into our one ambulance, looking forward to our first full day with all seven members of the team in one vehicle. Soon after setting out, we found a man sitting by the road with a massive eagle on his arm! A few dollars later and we had all had a go holding the eagle, a massive win for Neil, who had been intent on achieving this since reaching Mongolia.
Further on the road we came upon a bridge in bad repair,  with a large chunk missing, leaving a harrowing view of the river below. A family in a 4×4 had, to their detriment, not noticed the small rusty sign indicating that the bridge was broken, and their car was hanging ominosly of the end of the bridge.With all seven members of the team pushing however we managed to rescue the car. Leaving the happy man and his family to carry on up the road.
Keen to make up for lost time yesterday, we set out early and soon caught up with the St Andrews team, who had lost a steering rod 50km outside of Khovd, after helping them remove the second part of the rod with a blowtorch and a hammer we set up to find the other half of their team, who had hitchhiked their way into Khovd to try and find a replacement. The idea was to provide them with the second part of the rod so they could hopefully get the part repaired. Getting in touch with the team turned out to be difficult however, with Mongolian phone networks proving to be unreliable.  We did eventually we managed to meet up with the St Andrews team and return the part.
In Khovd, we also took the opportunity to restock, buying a wheel spanner that was sorely needed after the demise of our previous one as well as food. We also got our tyre puncture repaired, we are averaging one a day at the moment, so we need to get them repaired as quickly as possible! Greg also had quite the market experience, with a local man deciding to punch Greg hard in the arm, before his girlfriend dragged him away. Confused and amused, we carried on with the shop.
We managed a few more kilometres after Khovd, thanks to some actual tarmac! We found a small stream to camp by, as we were all keen for a wash, but this was quickly abandoned when swarms of mosquitos emerged from the grass around the stream, and setted down further away surrounded by nothing but mossie free sand.