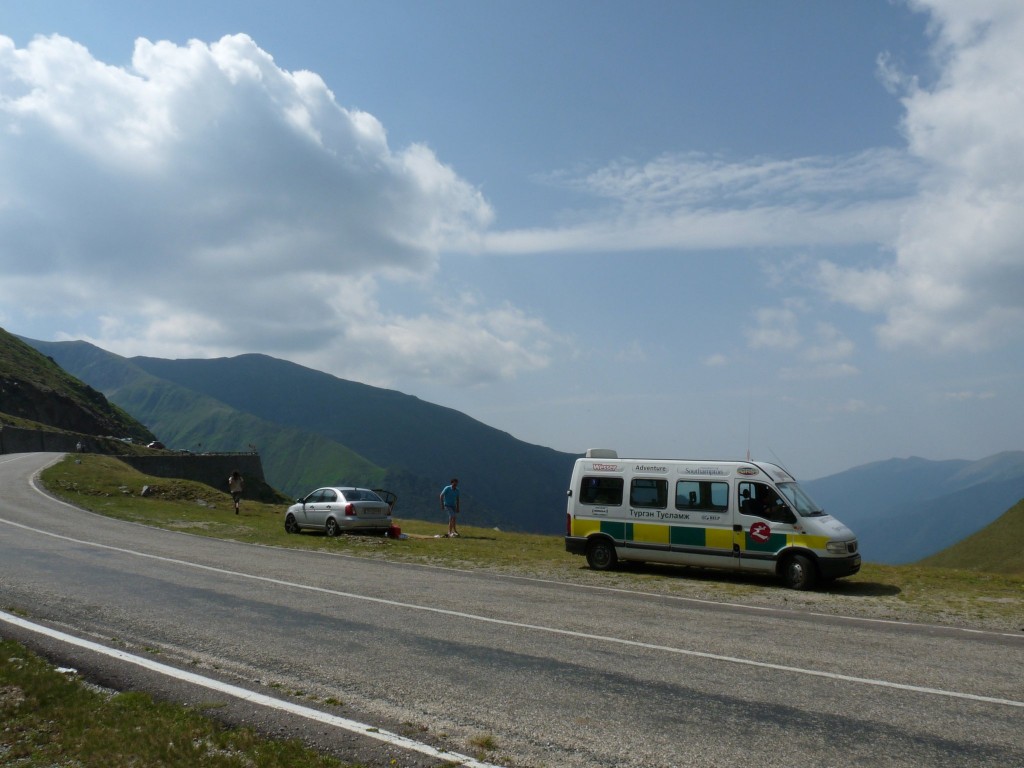 Starting from our wild camp, we drove towards Fagaras in the hope to find the Transfagarasan mountain road. We had heard it had only recently re-opened and many of us were looking forward to the spectacular views that we had heard so much about. On the climbing of the hill, it was found quickly that Adventure was developing an overheating problem. A quick pitstop in a layby and the engine fan was rewired to a switch, allowing the fan to be switched on at will.
Further up, the road that was already stunning only improved. With the trees surrounding the road on the way up, the views were tantalising as we could only see glimpses. Then, the road opened up for the final ascent with amazing driving and spectacular views. The ambulances themselves tried to prove their handling capability on these winding roads, with Endeavour struggling with the vibrations but this could not detract from the epic setting. We then continued up to the top of a rather sketchy peice of road. On reaching the top we were surprised to find most of Romania is seemed sitting with tables and chairs having the lunch and realised just how much of a perfect setting this would be to wild camp – if only we had found it the night before!
We decided to move through the tunnel and away from the tourists to stop for even more amazing views before the 1800km decent. The destination was the town of Constanta on the Black sea. To get to Constanta we intentionally avoided Bucharest to make sure we did not get stuck in traffic. The ring road looked the best option although it turned the surface had yet to be laid. On reaching the motorway that took us away everyone was feeling a lot more comfortable. With a false sense of security we drove down the very smooth motorway until Alex spotted a boulder about the size of a beachball lying in the middle of the lane. Both A&E managed to swerve to avoid and continued to Constanta more gingerly. We drove east until we hit the Black sea, before continuing north to find a beach. With it being the perfect camping site, we had a dip in the sea before a chilled out evening in the sun. Pretty crazy roadtrip just for the beach!