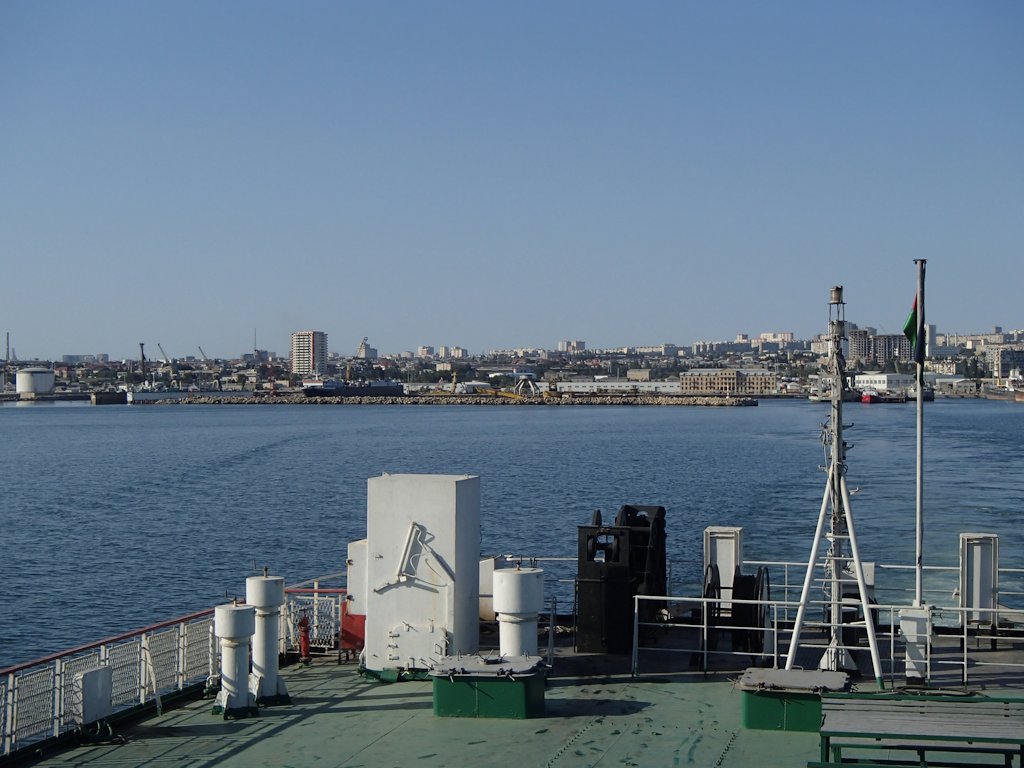 We awoke nice and early in the five-star car park in order to get to the ferry for nine o'clock for a 'definite' departure. We all set off with high hopes, but five minutes into the short journey Endeavour started making some weird noises. Concerned of causing more damage, we turned off the engine to them restart it….. only it wouldn't start! The starter motor had completely packed up. There was nothing for it but a bump-start at the side of a Baku rush hour road. After a few sketchy minutes we were back on the way to the ferry, determined that we would make it.
Upon getting to the port we started our favourite Baku past-time, the waiting game! While we were waiting we managed to get the broken starter motor off the ambulance and sent Ian and Rich into town in order to try and get a replacement. To all of our surprise the port got its act together and we started getting our money and passports out. This resulted in Ian and Rich rushing to get back in time as the guards couldn't understand where they were.
The loading of the ferry took hours, but we were happy once we were on board. We didn't have to take the ambulances down the ramp this time, so our worries about an awkward bump start were unfounded. We were also provided with some excellent entertainment while waiting to load the ambulances onto the ferry. From the number of articulated lorries grounded and damaged while being loaded onto the ferry you'd think these people had never done this before! We almost started taking bets on which lorries would rip their undersides off.
The boat was actually of a much better quality than we anticipated. We quickly took over the lounge area with the Drift Kings, WarrenPoint2Mongolia and the MadVenture people. We all chipped in to get a much needed room with a shower for everyone. Once the ferry left port we all settled down to some drinks with our newly made friends and have a very enjoyable journey.