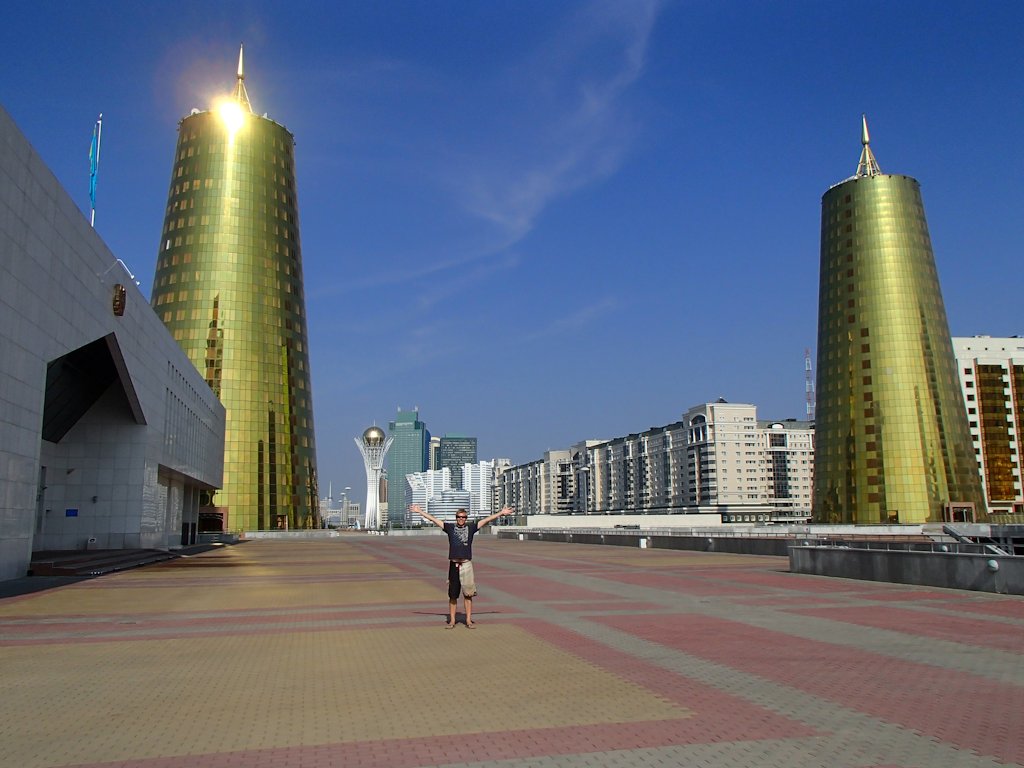 After a good nights sleep we set off early to get to the capital of Kazakhstan, Astana. Upon arriving we were instantly struck at how empty it was, until we realised that it was 9am on a Sunday morning. We were then treated to some spectacular monuments in a surprisingly modern city that could rival other cities across the globe.
There was a massive golden globe held up by curved pillars, that is shown on all the notes of Kazakhstan currency. We then strolled along the amazingly straight plaza area, passing beautiful rows of coloured flowers, interesting little figures of the city and sophisticated fountains that we cooled our filthy feet in. Further along we got to the parliament building and needless to say it put our own to shame. All the while we were pretty much the only people there, which only added to the grandeur of the monuments.
A five minute drive further on we reached the "Turka", a massive glass tent that has lots of expensive shops and, on the top floor, a swimming pool. The initial plan of going swimming disappeared when we discovered it cost over
$50 dollars each and so we settled for some "Pizza Supreme" instead.
At around 2ish we set off towards Pavlodar. The long days drive was only punctuated when the "STOP" light and battery light came on one of the ambulances. You can guess which of the ambulances had the problem. That's right, Adventure. We ascertained that the alternator had given up life stopping the battery from charging. Not such a big issue except that you get fined by police if your lights aren't on. The solution was to have Endeavor drive in front to warn of police hiding in bushes, a tactic that seemed to get us through the day without trouble.
Unable to fix the issue at the roadside, we waited until camping at 8pm to try and fix it whilst half the group started on dinner. We'd heard that horse meat was a popular Kazakh delicacy, and where better to try it than its home… so we feasted on an exciting concoction of horse meat and white peppers, which turned out to be pretty delicious!